تَشْكِيلِ الْكَلِمَاتِ الْعَرَبِيَّةِ عَلَى الأندرويد والأيفون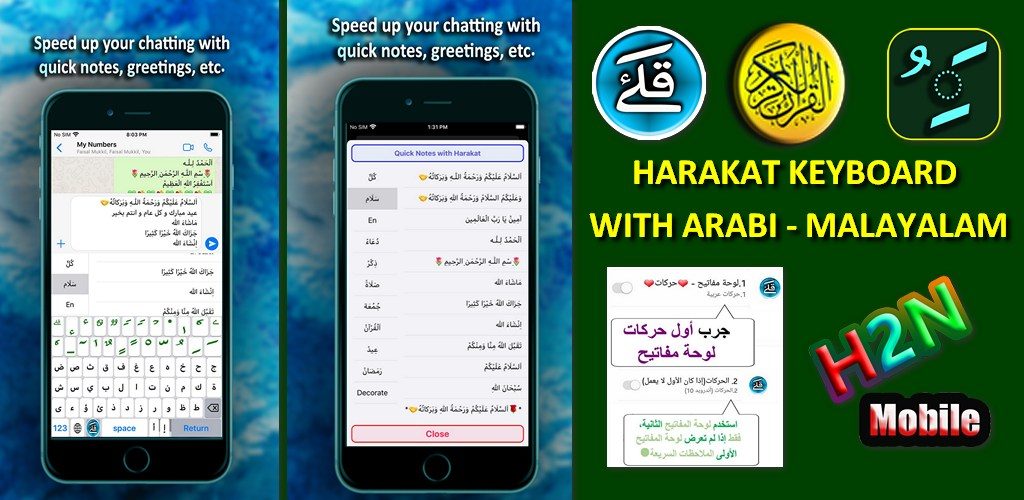 About Harakat Keyboard
The first application that provides all Arabic vowels, Harakat and Symbols.
By using this app you can type Quran, hadeeth, school chapters, etc very easily.
And this app also provides some quick notes.
The quick notes have different categories like Salam, Dua, Swalat , and Some extra decorations for decorating your scripts.
You can easily add these notes while using any social media app.
This harakat keyboard is providing a faster typing experience in Arabic with vowels. By the way everyone know that the default keyboard does not have all kind of Arabic vowels and characters used in quran. So this app is vey special for those are making Arabic scripts, arabic teachers, students, and Also everyone who interested in learning Arabic. The learning of Arabic is never easy without vowels. So this application makes the Arabic learning easier for the world.
Extra feature:-
– This App also have a great feature that is Readymade notes (auto updates).
Why Quick notes?
– When chatting , you may require some greetings. So these notes will help you to a faster conversation with hundreds of readymade greetings.
– The Quick notes also have daily prayer, special day prayers, swalaths, friday prayers. It is very needy to the scholars and students.
– The Quick notes have some decorational quotes also, it can use in your chats, scripts and notes to make an attractive look.

Must try this app once, I promise it will be useful for you.
And Also Share with your friends and families.
Using Internet Connection:-
This application also using the internet connection for the frequent updation of quick notes and instant alerts about the app updates.
Our sincere thanks to all users who supported us in making our Harakat keyboard top in the list off all app stores.
Disclaimer:-
This app does not to collect any of data you are typing, its only giving the arabic vowels. Anyway just for your satisfaction: we suggest to use the default iphone keyboard while typing any of confidential information.

Contact Us:-

Email: help2mobile@gmail.com
* Note: Whenever you send mails, don't forget to attach the related screenshots or files. So we can reach to the issues quickly.Keywords: –
Keywords:-
Arabic harakat keyboard Android
Arabic harakat keyboard ios
Arabic diacritics keyboard Android
Arabic diacritics keyboard ios
Arabic Thashkeel keyboard Android
Arabic Thashkeel keyboard ios
Arabic harakat keyboard iphone
Arabic Thashkeel keyboard iphone
Arabic diacritics keyboard iphone
Arabic harakat keyboard Android
Arabic harakat keyboard ios
Arabic Malayalam keyboard ios
حركات كيبورد‎ ايفون
حركات كيبورد‎ اندرويد
تشكيل الحروف لوحة المفاتيح‎
برنامج حركات ايفون
حركات كيبورد مزخرف‎
تطبيق حركات لتشكيل النصوص للايفون والايباد
طريقه كتابه حركات اللغه العربيه اندرويد
برنامج حركات ايفون
حركات كيبورد مزخرف‎